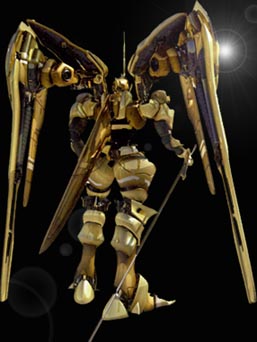 It was hopeless, as Fei thought. Weltall was no match for this Omnigear, let alone would stand a chance against its almost insane pilot, Ramsus.

Wielding a sword as magnificent as the golden sun, Vendetta was the perfect vessel for Kahr's wrath. The omnigear was twice, or even thrice as fast compared to its counterpart normal gear, Wyvern. Perfectly aligned with its animus, Vendetta was one of the ultimate fighting machine -- a gear of the gods. Fei had no other clue as to what the Omnigear may be holding back, and yet he stood his ground and challenged its omnipotent abilities.

It was a mistake though... a fatal mistake.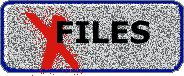 NAME: Vendetta
ORIGIN: Solaris
PILOT: Ramsus
HEIGHT: Unknown
WEIGHT: Unknown
WEAPON: Sword, others unknown
BATTERY LIFE: Unknown
FRAME DURABILITY: Unknown
REACTION TIME: Unknown
ETHER INDUCTION: Unknown
SPEED (GROUND): Unknown
SPEED (AIR): Unknown
SUB-GENERATOR TORQUE: Unknown
GENERATOR COEFFICIENT: Unknown
GEAR SPECIAL OPTIONS: Unknown

Weltall was overwhelmed, and after taking several blows from the enemy it finally came crashing to the ground -- all to the enjoyment of Ramsus. It was a day he so longed, to see his much hated adversary nearing the pits of hell.

Vendetta lay motionless as it remained a witness to Kahr's insanity. Vengeance was Ramsus' only thought, and alas, he will soon find the true meaning and worth of his "existence"...

NORMAL GEAR: Wyvern