Featured Mailbag Questions
of the Week

Page 2
Xenogears 2 AGAIN. Uh, read it anyway
Sender: XenoVulpix
Q: Hyuga, you remember me, right? Well, anyway, a Xenogears2 or an XG manga/anime MAY be possible. Xenogears had perfect contact with Zohar, right? Using Xenogears, -The Contact- or Fei, and the Ethos (at least the innocent ones), could reassemble a Zohar, using XG. If that failed, they could dupe the core of XG, and plop it in all the gears. XG will never run outta power. Fuel, yes, power, no...
Hyuga: Yep, I rember you XV. Interesting points. Considering what Zohar was, a computer-like device designed as Deus' brain, this is quite possible. It's definitely a new theory. But wouldn't people want new worlds? XG2 here would have to take place many years after XG1, as the world would need to be repopulated.
What many other people had thought of being possible for XG2 was the home planet of humans, were Deus originated. A story there of what happened during the creation of Deus.
Where do you get your EXP?
Sender: istangir <lsy@lausd.k12.ca.us>
Q: Where is the best place to gain experience point and money on the second disc, after the final form of Deus appears?
Hyuga: The very tough question that has no answer that all can agree on. Everyone has there own little piece of land where they fight till they, uh, drop.... yeah, that'll work. Personally, I love Anima Dungeon 1. Enemies are not too hard, they're repetitive enough, and you can work on deathblows since you're out of Gears. About 10000exp per 3 enemy abttle and you got yourself a place. And Shopkeeper Johnny is always waiting for you outside. Nice guy.
That's my favorite spot, but I know Nutz enjoys battling outside of the crashed Shevat. Golden equipment, good money, good exp and you're in good shape in Gears. I still prefer my place in Anima Dungeon 1.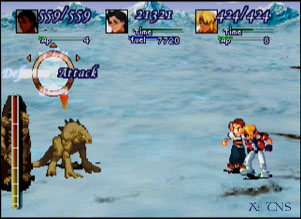 Nutz' favorite levelling up spot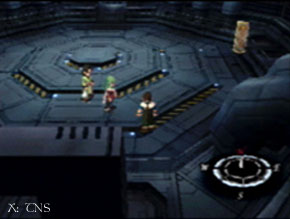 Hyuga's Favorite spot for kicking butts
HYUGA's AFTERTHOUGHTS
---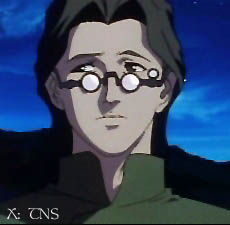 This ends yet another Mailbag. Not much to say here but "see you next week". So, uh, see you next week.
And the quote of the week doesn't just relate to Xenogears. Guess the game, location, and who said it to win something.... like an instant spot in the Mailbag. Only one person will win this prize unless more than one have a good thing to say. Etc. I'm just taking up more space to make this look longer. Ciao.


-Hyuga "Let's all go to the lobby" Ricdeau-

Quote: "Why can't two aliens be friends?"