Featured Mailbag Questions
of the Week
Page 2 (May 02 - July 02)
Fateful Marriages
Sender: Li-Jya <Le.jya@aol.com>
Q: I remember at some time early in the game, they mention Margie being Bart's cousin, and then also, later, that when Bart gets the Aveh throne back, Margie would have to be his queen. Huh? What's with the incest? Bart's too cool to be trailer-park trash?
Nutz: As much as we all hate it, Bart is engaged with Margie in some arranged marriage passed down throughout the Fatima clan. The sisters in Nisan mentioned that it has been tradition (and coincidence) that the Nisan Mother and the Aveh King are wed whenever they reach marrying age -- all for the unity and peace of Aveh and Nisan. It sure is freaky to think that such religious group allow incest within their domain. However, this is just some ideal the nuns are trying to push into Bart and Margie's head, and they (Margie and Bart) are not that all obligated to it. However, we do sense a tint of attraction between the two cousins -- or is it just pure, platonic love between the couple? We certainly don't know.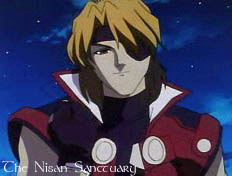 Bart: Certainly not the husband type
GUESS WHO THIS GUY IS!!
Sender: Sakura <alpha2_sakura@hotmail.com>
Q: This has got to be the best Xenogears site around, and even one of the nicest game websites ever! As for my question, I'd like to know who's the guy near Citan in the end of the game, the person who's talking about scientific occurances in the ionosphere. He seems to have popped out of nowhere, and I really am curious if he has a name or some sort of description. Thanks!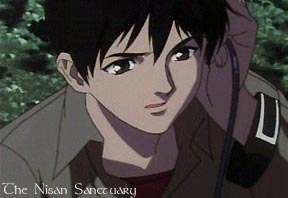 Nutz: A-ha!! You have raised the ultimate question of the century... now who is the guy in the picture above? We honestly don't know!! He seems to be without any identity, and it's really mind-boggling to think where he came from and where Citan dug him up in such short notice. Now if anybody out there knows who this guy is, please do tell us, coz we're also darn curious!!